Welcome Greg Oldfield
Welcome Greg Oldfield to PJRA team as the Senior Consultant for Occupational Health and Safety (OHS), and Hygiene.
Greg Oldfield is an OHS and Hygiene consultant and holds a Bachelor of Applied Science in Environmental health, a Graduate Diploma in OHS, and Masters of Applied Science in Occupational Hygiene and is a Certified Occupational Hygienist.
Greg brings over 25 years of OHS and Hygiene experience servicing agriculture, industry and professional associations, mining, petrochemical, chemical, IT services, local government, downstream oil and gas and public health at both a senior and executive level. He has worked in the US, China, Indonesia, West Africa, Papua New Guinea and extensively within Australia.
In the areas of Environmental Health Greg's expertise covers assessments of food safety, water quality, atmospheric contaminants and disease project management. As a Certified Occupational Hygienist Greg has designed and implemented occupational hygiene programs and undertaken statistical analysis of workplace exposures. Further Greg has also determined the adequacy of controls in the work environment for biological, chemical, physical, ergonomic and psychosocial factors. He has had significant involvement in program implementation in the mining sector for heat stress, fatigue management and the control of carcinogenic airborne contaminants.
Previous projects include:
OHS and Hygiene design and control management of the IT services and data storage industry (IBM and Telstra) to meet the ISO health and safety standard 18001 and AS/NZS 4801;
Occupational hygiene and health hazard management for Glencore (MIM), Newcrest Mining Limited (NML) and Wesfarmers;
Occupational Health and Hygiene oversight for the Exxon Mobil Papua New Guinea (PNG) – LNG project, including the construction phase; Behavioural Science Consultant for BST– delivering mentoring, coaching, and assessing managers and safety professionals in both the field and executive environments;
Plastics and Chemicals Association Coode Island Risk Management Community Consultative Committee;
Lihir Island Malaria Elimination Project with Medicines for Malaria Venture and NML – support by IsGlobal; and
Regulatory input for Legionella, Hazardous Substances and Dangerous Goods and NSW Diesel Particulate Matter steering group.
Greg was an Australian Institute of Occupational Hygienists executive, and on council, from 2010 – 2014 which saw the introduction of position papers on Dusts not otherwise specified, Occupational noise and Diesel Particulate Matter.
Greg complements and extends our capabilities related to Occupational Health, Safety and Hygiene risk assessments, management, expert evidence and regulatory advice.
For more information please contact Greg.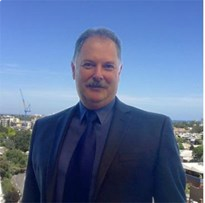 Greg Oldfield
Senior Occupational Health & Safety and Hygiene Consultant
T: 03 9690 0522